---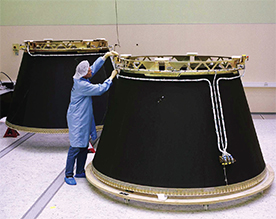 RUAG Aerospace
- FEMAP Case Study Highlight
RUAG Aerospace cuts finite element meshing times from a week to less than a day with Femap
Short project deadlines from satellite companies in the United States, Japan, Europe and Russia require model validation at reduced costs. Femap with NX Nastran from Siemens PLM Software provides a user-friendly finite element analysis (FEA) pre- and post-processing with excellent performance-to-cost ratio. Femap allows RUAG to work with all major FEA and CAD formats and easy define and evaluate laminate structures. With automatic meshing, RUGA reduced finite element modeling time from one week to less than one day. The company also reports faster analysis turnaround time and the ability to create more detailed models and more accurate boundary conditions to improve accuracy.
Read the full article here.
---
FEA Software Solutions
world-class FEA solutions for the Windows desktop
| | |
| --- | --- |
| | |
Femap is recognized as the world's leading CAD-independent Windows-native pre- and post-processor for advanced engineering finite element analysis (FEA). It provides engineers and analysts with an FEA modeling solution to handle even the most complex tasks easily, accurately and affordably.
Femap has embodied the principles of power and simplicity for over 20 years and continues that focus today with a Windows-native graphical user interface and efficient workflows that simplify access to all Femap functionality and streamline the process of creating an accurate and representative simulation model. Femap provides exceptional value and performance and is not limited to geometry-based digital data. Femap will also delight customers working with pure finite element model data. As a nuts-and-bolts,"bottom up" finite element pre- and post-processing solution, Femap provides a range of FEA model readers to rapidly import existing models from many FEA solvers. Advanced functionality then eases manipulation of finite element data at the node and element level.
The bottom line is that Femap makes it possible to quickly create models that accurately predict the structural, dynamic and thermal performance of single components, assemblies or complex systems.
| | | |
| --- | --- | --- |
| Femap offers seamless geometry access with major CAD systems such as Pro/Engineer,Catia,NX,NX I-deas® software, Solid Edge, AutoCAD and SolidWorks. Based on the industry-standard Parasolid geometry engine, Femap offers extensive geometry creation tools including standard wireframe curves, surface and solid modeling. Powerful shelling, blending, Boolean operations, surface imprinting and lofting combine to make Femap extremely effective at creating geometry for analysis. More... | Engineers often encounter geometry that is not ideal for analysis model definition. Femap provides geometry creation and editing tools for curves, surfaces and solids, feature suppression and mid-surface extraction. Solids can be subdivided and automatically connected to represent dissimilar materials for semi-automatic hexahedral mesh generation. Engineers can combine multiple surfaces to improve meshing areas for higher quality shell meshes. More... | Femap provides in-depth, high-quality support for industry standard solvers, including the popular and proven NX Nastran, MSC/MD Nastran, Abaqus, Ansys, MSC.Marc, LS-DYNA, SINDA and TMG. Femap provides the ability to re-use and integrate analysis models from legacy data and from customers and suppliers. Femap's complete element library, with comprehensive support of physical and material definitions, takes full advantage of the advanced capabilities of these solvers, including dynamic, geometric and material nonlinear, heat transfer and fluid flow applications. More... |
| | | |
| --- | --- | --- |
| Femap Thermal includes both the transient and steady-state thermal analysis capabilities required to solve the majority of common engineering problems. Capabilities include the modeling of conduction, convection, radiation and phase change. Femap Thermal provides a range of thermal boundary conditions and solver controls and provides a powerful thermal modeling tool for assemblies. This thermal coupling capability allows users to create paths for heat to flow between parts in large, complex assemblies. More... | Femap Advanced Thermal adds many advanced thermal and fluid flow modeling capabilities to the Femap Thermal package. For example, fluid duct flow modeling includes coupled convection and fluid flow analysis. An extensive set of tools for advanced radiation and spacecraft modeling includes solar and orbital heating, orbit modeling and display, specular reflections with ray tracing and articulating structures. Femap Advanced Thermal also includes advanced solver features such as custom user subroutines, model simplification, substructuring and interfaces to industry thermal codes. More... | Femap Flow provides a comprehensive 3D computational fluid dynamics (CFD) solution fully integrated within Femap. When combined with Femap Advanced Thermal, it solves a wide range of multi-physics problems that involve fluid flow and heat transfer. Both low-speed and high-speed compressible flows can be modeled. The Femap Flow solver uses an efficient and robust element-based finite volume, multi-grid solver to compute 3D fluid velocity, temperature and pressure for both steady-state and transient applications. More... |
Femap is not just a solid investment for those committed to excellence in the use of finite element analysis technologies. It's the right tool to help you realize your business goals.